I think i'm gonna like it here.

Warning! This article contains spoilers.
The Orphans are Annie's friends from the orphanage in which she used to live. There are many of them but the main six are Molly, Kate, Tessie, Pepper, Duffy, and July. They get along well sometimes, fighting occasionally. Molly is the youngest of the orphans at age 6. Pepper is the meanest and fiestiest out of the orphans at age 12. She acts like she does not care but deep down cares for her fellow orphans. July is the sweetest of the orphans and somewhat the prettiest. She and Duffy are the oldest at age 13 and they act as mother figures to the other orphans. Tessie is a whiny ten-year-old girl and Kate is the second youngest in most additions. The girls are pretty smart and often outwit the headmistress of the orphanage, Ms. Hannigan.
1999 film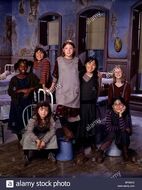 In the 1999 orphans where there they're personalities still remain. Since the Disney one still remains the musical version. The Orphans always follow Miss Hannigan. Like in the movies, books and musical.
Just like in the 1982 film, there are other orphans, however they are only seen a few times.
2014 Film

In the 2014 film the Orphans were shortened to Duffy, Tessie and Pepper with additional orphans that aren't from the musical, and they are named Mia and Isabella. Information still remains about the original orphans. Mia remains the youngest in replacement for Molly. Isabella doesn't really have information. She is also not really special.
Community content is available under
CC-BY-SA
unless otherwise noted.