I think i'm gonna like it here.

Warning! This article contains spoilers.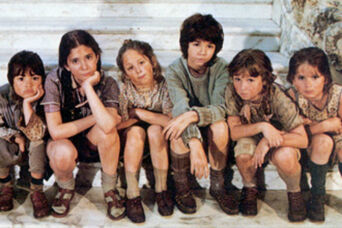 The Orphans are Annie's friends from the orphanage where she used to live. There are many of them but the main six are Molly, Kate, Tessie, Pepper, Duffy, and July. The portrayals of the Orphans vary from the various adaptations of Annie. They get along well sometimes, fighting occasionally. Molly is the youngest of the orphans in all adaptations at age 6. Pepper is the meanest and feistiest out of the orphans aged 14 (movies) or 12 (Musical). She acts like she is mean and tough but deep down cares for her fellow orphans. July is the sweetest of the orphans and somewhat the prettiest. Duffy is a naughty girl who is best friends with Pepper. July and Duffy are the oldest at age 13 in the musical and some movies, and they act as mother figures to the other orphans, but are both 8 in the 1982 film . Tessie is a whiny, worrisome 8-year-old girl in all editions. Kate is the second youngest in most additions, but is the second oldest in 1982 film and acts as a motherly figure. The girls are pretty smart and often outwit the headmistress of the orphanage, Ms. Hannigan. The orphans don't have loving parents like Annie, but are still tough and get through their hard knock lives.
1982 film
The first film of Annie has all of the orphans, but their characters are unique in many ways from the other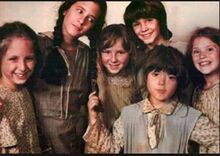 adaptations. Their ages are different, with only Tessie and Molly staying the same. Kate and Pepper are older and are more responsible, while Duffy and July are younger and more immature. Their roles in the film are also expanded, and they have a lot more screen time and more musical numbers than other editions. The numerous other orphans in the orphanage are also more involved, with speaking and singing parts. The main orphans sing in the songs "It's the Hard Knock Life," "Sandy," "Maybe (Reprise)," "You're Never Fully Dressed without a Smile," and "Final Medley."
1999 film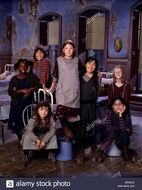 In the 1999 film the orphans are similar to the personalities in the musical, since this Disney adaption relies more heavily on the musical than the other films. The Orphans always follow Miss Hannigan, like in the movies, books and musical.
Just like in the 1982 film, there are other orphans, however they are only seen a few times.
2014 Film

In the 2014 film the Orphans were shortened to Duffy, Tessie and Pepper with additional orphans that aren't from the musical, and they are named Mia and Isabella. Information still remains about the original orphans. Mia remains the youngest in replacement for Molly. Isabella doesn't really have information. She is also not really special.
Community content is available under
CC-BY-SA
unless otherwise noted.