I think i'm gonna like it here.

Warning! This article contains spoilers.
Tomorrow, Tomorrow I love ya tomorrow You're always a day away

This article was featured on the front page.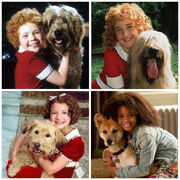 Annie, born Annie Bennett in the theatrical adaptations and later known as Annie Bennett Warbucks, or Annie Bennett Stacks is the protagonist of the comics, the Broadway musical, and the films of the same name. She is a spunky, optimistic, energetic eleven-year old artist girl. She has curly red/orange hair (although she actually has straight auburn hair in the 1999 telefilm version, though it sometimes shown to be curly near the end). In the 2014 film, Annie is black. Annie is friendly, good-natured, and usually positive. She lives in New York City, and resides in an orphanage until she is adopted by Oliver Warbucks. In the films, she was stated to have been born on October 28; the original comic strips state that she was born on February 29.
Depiction
Comic strip universe
Little is known or revealed about Annie's origins in the comic strips. Kenneth Barker's article in Nemo, the Classic Comics Library #8 mentions that Annie had been in Miss Asthma's orphanage since infancy. Annie describes the first thing that she remembered: "Bein' in th' 'Home' and how mean Miss Asthma was. I guess I must have been there, right from th' time I was born, almost." There were in fact family records for Annie and her parents, but these were lost when the orphanage was razed on November 18, 1928. Despite much persuasion from Daddy Warbucks, Asthma refused to divulge what she remembered about Annie's biological family, apart from being left as a founding in front of the home.[1]
While Annie had been under Warbucks' care for the majority of the series, only being out on her own from time to time during her numerous adventures, it wasn't until the July 9, 2019 Dick Tracy strip where she was formally adopted as Oliver's daughter, as opposed to being just his ward.
Novelization by Thomas Meehan
The novelization of the Broadway musical establishes that Annie was born to David and Margaret Bennett, two struggling and impoverished painters from Iowa who moved to New York in 1921 to study art at Cooper Union. A young couple, the Bennetts knew no immediate relatives in New York or back in Iowa, and when Margaret fell ill with the Spanish Flu, her husband David left two-month old Annie at the orphanage in a last-ditch effort, leaving with the baby a note assuring Annie that they will be back for her. They both later died, unknown to her. She always hoped her parents would come to get her someday, counting each new year that has passed since. Annie has been miserable in the orphanage, no thanks to the orphanage's headmistress, Miss Hannigan, since Hannigan often forces Annie and the rest of the orphans into labor all while she spends most of her earnings to alcohol. She also forces them to say, "I/We love you, Miss Hannigan." to her, which the orphans sarcastically or begrudgingly comply.
Fed up with the drudgery and yearning to find her true parents, Annie made her first attempt to escape from the orphanage, but not without getting caught by Hannigan. This didn't deter the orphan however, when Annie saw an opportunity by way of a laundry chute by a man named Bundles McCloskey. Annie smuggles herself into the chute and out of the orphanage. She later spends the next few months on the run from the orphanage, initially spending the winter as resident staff in Bixby's Beanery, a low-grade café run by couple Fred and Gert Bixby, before escaping after she finds Sandy. She then spends several months living in the Hooverville with Sophie and the Apple Seller (who is named as G. Randall "Randy" Whitworth Jr, a former stockbroker left destitute by the Depression) who, in the novelisation, are adult characters and a couple. Annie's stay at the Hooverville was pleasant to say the least, as the denizens welcomed her better than the Bixbys, let alone Hannigan. But this came to an abrupt end when a police officer named Lt. Ward broke up the Hooverville and captures Annie, who spent the next day in a jail cell along with the other Hoovervillites.
Annie was sent back to the orphanage where she was about to receive a beating from Miss Hannigan when the secretary to billionaire Oliver Warbucks, named Grace Farrall, came in. She invited Annie to come over and spend Christmas with Oliver Warbucks, but Miss Hannigan would only let her go after she was threatened by Grace saying she would get her fired. Grace then took Annie to Oliver Warbuck's mansion, but when he came, he wanted her to leave. He eventually gave in and had a fun time with her going around New York City that eh stopped working and committed to adopting her. When he told Annie, she refused the offer because all she wanted was her own parents, who were actually dead. Oliver Warbucks then determined to find Annie's parents, putting her on the radio, sending out the FBI, and offering $50,000 to whoever could prove they were her parents. In the meanwhile he brought her to Washington to meet President Roosevelt, where she created the New Deal. After all these failed attempts, Oliver asked again to adopt her, and this time she said yes. But before this could be made official, Rooster Hannigan and his girlfriend came in and claimed they were her parents so they could get the award money. They had the necessary proof, so it was decided they would take her the next day, much to the chagrin of Annie and Mr. Warbucks. But the next morning, Mr. Warbucks was told by President Roosevelt and the FBI that her parents were actually dead, and the imposters were arrested along with Miss Hannigan as soon as they arrived. Mr. Warbucks then told Annie of her dead parents, and she was very sad. But they then became father and daughter and they lived happily ever after.
Theatrical rendition
Based off of the Thomas Meehan novel, this is a musical later produced into two movies. Annie is abandoned in a New York City orphanage where she dreams of her parents returning to reclaim her. In 1933 she escapes her abusive orphan mistress Miss Hannigan and finds a dog Sandy, but is returned to the orphanage.
Right after, she is invited by Grace Farrell to spend Christmas, (The 4th of July in the the 1982 film), with the billionaire Oliver Warbucks. After at first being repulsed by Annie, she grows on him and he tries to adopt her, but she refuses because she only wants her real parents. Oliver offers a $50,000 reward for the couple that could prove they are Annie's parents. Miss Hannigan and her brother and his girlfriend try to fake themselves as Annie's parents to get the money, and almost get away with it, but are caught by Oliver Warbucks and President Roosevelt. Oliver Warbucks then adopts Annie and they live happily ever after.
Personality
Annie almost always maintains a good, positive attitude, and is the ideal girl. She has a fairly good relationship with the rest of the orphans, though she has had a few quarrels with them, most especially with Pepper. In spite of her innocence and good-natured attitude, Annie does show her tomboyish side at points, being headstrong and more than willing to stand up for herself and her friends, such as when she got into a brawl as she rescued a stray dog (whom she later christened as Sandy) from a pack of street boys who were mistreating the dog. She never is mean unless she needs to defend someone being hurt. Whenever Annie gets down, she sticks up her chin and sings the song, "Tomorrow," or thinks about how her loving parents are coming to get her.
Abilities
Being a young girl of eleven years, Annie does display skills typical of a child of the era. She is a skilled hand-to-hand combatant, able to knock out or out-punch boys and/or girls of her age (such as when she defended Sandy from a band of bullies in the original musical, and tackled a girl named Kate McGuire who was coerced by Hannigan to pose as Annie in exchange for a huge sum of money in Annie II: Miss Hannigan's Revenge) and even hold out on her own against older people; she however only uses this as a last resort and would often resort to diplomatic means such as when she broke up arguments and fights between her peers at the orphanage. Such was her tenacity that even Pepper, the oldest among the orphans, was afraid of her; the two would band together at school as a way to defend themselves and their fellow orphans from those who bully them. This made her the de facto leader of her group, especially when it comes to dealing with Miss Hannigan.
She also proved to be adept at schoolwork, having taken interest in reading and geography and won the spelling bee at school, though her victory would be rendered null and void by the teachers who viewed her and the other orphans as pariahs due to their social status as destitutes.
Most importantly, she is able to cheer up people around her with her optimistic attitude and make everyone's life feel more full. She is able to make Oliver Warbucks feel fulfilled by having her come into his life, and she make her fellow orphan's lives better by being their friend and comforting them when they need her.
Trivia
All three original debuting actresses' names started with an "A", just like the character's: Andrea McArdle, who first played the role on Broadway; Aileen Quinn, who played the role in the 1982 Columbia film, and Alicia Morton, who played the role in the 1999 Disney telefilm. She is played by Quvenzhané Wallis in the 2014 film. That went double for Ashley Johnson (though she wasn't introduced in this role) when she played the role in the 1995 (1996 internationally) TV sequel Annie: A Royal Adventure! (See the picture above with all 4 of these Annies).
The first person to actually play her that doesn't start with an A is Lea Salonga. She has played her in the Broadway. If you want to see her sing. You can check three videos singing Tomorrow, It's the Hard Knock Life, and Maybe online. This is also her first time to act on public. The reason why she's not that known to play Annie because she only played Annie when the Broadway went to Philippines.

Similarly Ariana also made her debut by playing the role of Annie a video of her singing Tomorrow is found online. This was also mentioned on The Tonight Show with Jimmy Fallon.

Although in the original Broadway show and 1999 film, Annie's hair starts out straight and auburn, in the 1982 film, her hair is curly and red the whole time like Annie's appearance in the original comic strip, Little Orphan Annie.
The 2014 rendition of Annie is of African-American ancestry, a departure from the classic character who is hinted to be of Irish descent.
Pepper is portrayed in the film by Rosanne Sorrentino, who played Annie in the 3rd National Tour of the musical. Sorrentino originally wanted to be Annie in the film, but was too old.
Gallery
References
Community content is available under
CC-BY-SA
unless otherwise noted.