Tomorrow, Tomorrow I love ya tomorrow You're always a day away

This article was featured on the front page.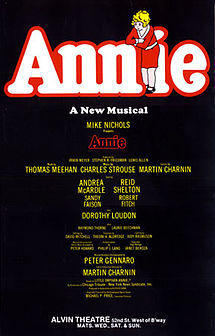 Annie is a musical based on the comic of Little Orphan Annie by American cartoonist Harold Gray.
The music was composed by Charles Strouse , and the lyrics were written by Martin Charnin. The plot follows a girl named Annie who is a plucky red haired girl. Who dreams of life out of the orphanage, one day a guy named Oliver Warbucks wants to spend time with an orphan, for an entire week. So he sent his assistant Grace Farrell to find an orphan to adopt.
The original Broadway production opened in 1977 and ran for nearly six years, setting a record for the Alvin Theatre (now the Neil Simon Theatre). It spawned numerous productions in many countries, as well as national tours, and won the Tony Award for Best Musical. The musical's songs "Tomorrow" and "It's the Hard Knock Life" are among its most popular musical numbers.
Reception
It won the Tony Award for Best Musical. The musical's songs "Tomorrow" and "It's the Hard Knock Life" are among its most popular musical numbers. It has also won in the Tony awards in 1977 is Best Musical,Best Book of a Musical,Best Original Score,Best Direction of a Musical,Best Choreography,Best Scenic Design and Best Costume Design. These are all in the original broadway.It was nominated for, Best Performance by a Leading Actor in a Musical, Best Performance by a Leading Actress in a Musical, and Best Direction of a Musical. The following year it won a Grammy award for Best Cast Show Album.
Aside from the Tony Awards they have also won Drama Desk Awards. They have won for Outstanding Book of a Musical,Outstanding Featured Actress in a Musical,Outstanding Director of a Musical,Outstanding Choreography, Outstanding Lyrics, and Outstanding Costume Design.It has been nominated for Outstanding Actor in a Musical and Outstanding Music.
In other years they were nominated to awards as well in the 1997 broadway revival they were nominated a Tony Award for Best Revival of a Musical. In the London revival they were nominated an Oliver Award for Best Performance in a Supporting Role in a Musical and Best Theatre Choreographer. In the 2012 broadway revival they were nominated for a Tony Award and a Drama Desk Award for Best Revival of a Musical and Outstanding Actor in a Musical.
Emblem
The emblem is the main character named Annie and her named written in white highlighted in red. With Annie standing between n and i. The drawing was made by Harnold Gray. The on pe who wrote the original comics.
Characters
Songs
Act I

† This number was added as a showcase for Nell Carter in the 1997 Broadway revival. It has not appeared in any subsequent productions.
‡ This number was added as a showcase for Anthony Warlow in a 2000 Australian production, and has since become an optional part of the show, as it notably did not appear in the 2012 Broadway revival,also starring Warlow.
Act II
Production history
The New York Times estimates that Annie is produced 700 to 900 times each year in the United States.
Pre-Broadway tryout
Annie had its world premiere on August 10, 1976 at the Goodspeed Opera House in East Haddam, Connecticut under the direction of Michael P. Price, Executive Director. Kristen Vigard was the first actress to play the title role. However, the producers soon decided that Vigard's genuinely sweet interpretation was not tough enough for the street-smart orphan. After a week of performances, Vigard was replaced by Andrea McArdle, who played one of the other orphans, Pepper. Vigard went on to become McArdle's Broadway understudy.
Broadway original
Andrea McArdle, Reid Shelton and Sandy, 1977. The original Broadway production opened at the Alvin Theatre on April 21, 1977 and starred Andrea McArdle as Annie, Reid Shelton as Daddy Warbucks, Dorothy Loudon as Miss Hannigan, and Sandy Faison as Grace Farrell. Danielle Brisebois was one of the orphans. It was nominated for eleven Tony Awards and won seven, including the Best Musical, Best Score, and Best Book. Replacements in the title role on Broadway included then-child actors Shelley Bruce, Sarah Jessica Parker, Allison Smith and Alyson Kirk. Replacements in the role of Miss Hannigan included Alice Ghostley, Dolores Wilson, Betty Hutton, Marcia Lewis, and June Havoc. Ann Ungar understudied and played for Dorothy Loudon in the role of Miss Hannigan. She also understudied Alice Ghostley and Dolores Wilson.The show closed on January 2, 1983, after a total of 2,377 performances, setting a record for the longest running show at the Alvin Theatre (now the Neil Simon Theatre), until it was surpassed by Hairspray in 2009.
United States National touring companies
During the Broadway run of Annie, there were four touring companies that were launched from the original production to tour to major North American cities:
The 1st National Touring Company opened in Toronto in March 1978 with Kathy Jo Kelly as Annie, Norwood Smith as Daddy Warbucks, Jane Connell, Ruth Kobart as Miss Hannigan, and Gary Beach as Rooster. It played in Miami from April 12 to May 13, 1978 then continued for a few more cities until it landed in Chicago where it played for 32 weeks. In April 1979, it continued on the road in with Mary K. Lombardi now in the lead as Annie. In the fall of 1980, Theda Stemler took over the part and was replaced in Boston when she grew too old. On May 15, 1981, Louanne Sirota, who had played Annie in the long-running Los Angeles production (see below), took over the role for four months. In August 1981, Becky Snyder became the company's last Annie, closing the tour on September 6, 1981.
The 2nd National Touring Company (sometimes referred to as the West Coast or Los Angeles Production) opened in San Francisco on June 22, 1978 with Patricia Ann Patts starring as Annie, Jennifer Cihi as Pepper and the then-unknown Molly Ringwald as one of the orphans. The show landed in Los Angeles on October 15, 1978 for an open-ended run at the Shubert Theatre. On June 12, 1979, Sirota, just 9 years old (up until that time, all Annies had been 11 years old), took over the role from Patts. Marisa Morell took the role in December 1979, closing the Los Angeles run and continuing on tour with the show through December 1980. Kristi Coombs then played Annie until this touring company closed in Philadelphia on January 23, 1982. Alyssa Milano played one of the orphans in 1981.
The 3rd National Touring Company opened in Dallas on October 3, 1979 with Rosanne Sorrentino (who would later go on to portray Pepper in the 1982 film version) in the title role. This company toured to 23 cities playing mostly shorter runs of a month or less. On March 27, 1981, Bridget Walsh took over as Annie. Becky Snyder (who had closed the 1st National Tour) joined this company in the summer of 1982 and stayed with it until it closed in September of that year.
The 4th National Touring Company opened on September 11, 1981 with Mollie Hall playing Annie. This production was a "bus and truck" tour, with a slightly reduced cast, that traveled the country and often played in two cities a week. This company was still touring when the original Broadway production closed in January 1983, making Kathleen Sisk the final performer to play Annie from the original production team. This tour closed in September 1983.
West End original
The musical premiered in the West End at the Victoria Palace Theatre on 3 May 1978. Andrea McArdle, the original Broadway Annie, played the title role for 40 performances. British 12-year-old Ann Marie Gwatkin was also cast in the title role and appeared on the Original London cast recording. The Opening night cast and the original sound track of children were Claire Hood, Jane Collins, Dawn Napier, Annette Mason, Helen Stephenson, Jackie Ekers and Linda Brewis. Ann Marie Gwatkin alternated with Christine Hyland and four other Annies were cast at this point: Anne O'Rourke, Jacinta Whyte, Helen Thorne, Rosa Michelle who were to play the role over the next year. Following this Ann Marie Gwatkin and Jackie Ekers shared the title role followed by many other casts of Annie. Miss Hannigan was originally played by Sheila Hancock, and later by Maria Charles and Stella Moray; Daddy Warbucks was played by Stratford Johns and later by Charles West, with Deborah Clarke playing Pepper in the first year and Melanie Grant playing Molly.
Annie closed on 28 November 1981, after 1485 performances.
UK tour
The musical transferred to the Bristol Hippodrome for a special Christmas season before touring Britain. Because of strict British employment laws for juvenile actors, a succession of actresses took on the lead role every four months. One of the last girls to perform the role at the Victoria Palace before the show went on tour was 10-year-old Claudia Bradley from Leeds who was featured on a 1981 BBC programme called Fame.
Broadway revival (1997)
A 20th anniversary Broadway revival, which played at the Martin Beck Theatre (now called the Al Hirschfeld Theatre) in 1997, entitled Annie, the 20th Anniversary, starred Nell Carter as Miss Hannigan, but controversy surrounded the casting of the titular character. The original actress cast in the role, Joanna Pacitti, was fired and replaced by her fellow orphan, Brittny Kissinger (who usually played orphan July) just two weeks before her Broadway debut, while battling bronchitis in Boston. The Pre-Broadway Tour was playing the Colonial Theatre. 'Annie' Understudy and Swing Orphan Alexandra Keisman performed the role the first night Pacitti was absent. The producers then gave Kissinger the next performance. The show then moved on to the Oakdale in Connecticut where an insert was placed in the Playbill claiming "The Role of Annie is now being played by Brittny Kissinger". Public sentiment seemed to side with Pacitti as she was the winner of a highly publicized contest to find a new Annie sponsored by the department store Macy's. This incident, coupled with the mixed reviews the new staging garnered, doomed it to a short run, although it was followed by a successful national tour. Kissinger, then 8, became the youngest actress to ever play Annie on Broadway.
More controversy surrounding the show involved Nell Carter. Carter reportedly was very upset when commercials promoting the show used a different actress, Marcia Lewis, a white actress, as Miss Hannigan. The producers claimed that the commercials, which were made during an earlier production, were too costly to reshoot. Carter felt that racism played a part in the decision. "Maybe they do not want audiences to know Nell Carter is black", she told the New York Post. However, the ads did mention that Carter was in the show. "It hurts a lot", Carter told the Post, "I've asked them nicely to stop it — it's insulting to me as a black woman.Later reports stated that "Nell Carter of Broadway's 'Annie' denied Thursday that she called her show's producers racist because they chose to air commercials featuring a previous Miss Hannigan--who is white--instead of her." Her statement, released by the Associated Press, read: " 'Yes, it is true that I and my representatives have gone to management on more than one occasion about the commercial and were told that there was nothing they could do about it,' Carter said in a statement Thursday. 'Therefore, I have resigned myself to the fact that this is the way it is.' The statement also addressed the alleged charges of racism, first published in Thursday's New York Post. Carter is black. 'I, Nell Carter, never, ever, ever accused my producers or anyone in the show of racism,' she said. Producers have said it is too expensive to film a new commercial."Carter was later replaced by another white actress, Sally Struthers. The revival closed on October 19, 1997 after 14 previews and 239 performances.
West End revival (1998)
The show was revived at the Victoria Palace, running from 30 September 1998 to 28 February 1999. It starred Lesley Joseph and then Lily Savage (the female alter ego of comedian Paul O'Grady) as Miss Hannigan and Kevin Colson as Warbucks. The young girls who played Annie were Charlene Barton, Tasha Gold, Libby Gore and Sophie McShera.
1999-2000 United States tour
Starting in August 1999, the post Broadway National Tour continued with Meredith Anne Bull as Annie. In the spring of 2000, Ashley Wieronski, who had been playing Duffy, moved up to play Annie. In July 2000, Dana Benedict took over as Annie.
2000-2001 Australian tour
In 2000/2001 a tour played Sydney, Melbourne, and Brisbane. Anthony Warlow starred as Daddy Warbucks with Amanda Muggleton as Miss Hannigan. A new song, "Why Should I Change a Thing", was written for Warlow.Appearing as Annie in the Sydney production were Rachel Marley and Jodie McGaw. A publicist noted that "each time the show moves to a new city two casts of seven orphans plus two Annies have to be found to join the adult cast.
In 2000/2001 a tour played Sydney, Melbourne, and Brisbane. Anthony Warlow starred as Daddy Warbucks with Amanda Muggleton as Miss Hannigan. A new song, "Why Should I Change a Thing", was written for Warlow.Appearing as Annie in the Sydney production were Rachel Marley and Jodie McGaw. A publicist noted that "each time the show moves to a new city two casts of seven orphans plus two Annies have to be found to join the adult cast.
2001-2010 UK tours
Further UK tours of the show were also staged, including a one-month run at The Theatre Royal in Lincoln in 2001. Members of the original cast included Kate Winney and Jemma Carlisle as Annie, Louise English (Grace), Vicki Michelle (Miss Hannigan) and Simon Masterton-Smith (Daddy Warbucks). The show proved to be a success, and so for the first two tours and the Malaysian Genting Highlands Production, the role of Annie was then shared by Faye Spittlehouse and a young Lucy May Barker. Miss Hannigan was late performed by Sue Pollard and Ruth Madoc and Daddy Warbucks by Mark Wynter. This particular production toured from 2001–2007 and resumed in September 2008. The last tour of this production ended in 2011 with the role of Miss Hannigan still Su Pollard, David McAllister as Daddy Warbucks, Victoria Sian Lewis as Annie, and Simone Craddock as Grace Farrell.
2005-10 United States tours
Starting in August 2005, a 30th anniversary traveling production of Annie by NETworks Tours embarked on a multi-city tour. This production was directed by Martin Charnin. For the first year of the tour, Conrad John Schuck played Daddy Warbucks, Alene Robertson was Miss Hannigan and Annie was played by Marissa O'Donnell.Throughout the run of the show, there were a couple of replacements, including Amanda Balon, who took over as Molly. For the 2nd year of the tour, Annie was played by Marissa O'Donnell again.This Equity Tour closed on March 25, 2007, at the Hippodrome Theatre in Baltimore, Maryland. The 2007-08 tour starred Amanda Balon as Annie. The 2008-09 cast for the tour featured Tianna Stevens as Annie. Early in 2009, Amanda Balon returned temporarily to play the role of Annie until Madison Kerth was rehearsed to play the title role. Also returning were Barton, Andrews and Meisner. Other cast members included Mackenzie Aladjem (Molly). In the 2009-10 tour, Kerth returned as Annie along with most of the previous year's cast, adding Jordan Boezem (from Spotlight Kids in Sarasota, Fl) in the role of July.
Broadway revival (2012)
A 35th Anniversary production opened on Broadway in 2012. Thomas Meehan revised the musical, with James Lapine directing.Lilla Crawford starred as Annie with Katie Finneran as Miss Hannigan, and Anthony Warlow playing "Daddy" Warbucks.Featured cast includes Brynn O'Malley, Clarke Thorell and J. Elaine Marcos as Grace Farrell, Rooster and Lily St. Regis (respectively).The revival started previews at the Palace Theatre on October 3, 2012, and officially opened on November 8, 2012 receiving mostly mixed reviews.Notable replacements include Jane Lynch and Faith Prince as Miss Hannigan.On July 30, Taylor Richardson and Sadie Sink both began alternating the role of Annie, replacing Crawford.This production closed on January 5, 2014, after 38 previews and 487 regular performances.
West End revival (2017)
A West End revival began at the Piccadilly Theatre in London opening on 5 June 2017 (previews beginning 23 May) for a limited run until 6 January 2018. Miranda Hart will make her musical debut as Miss Hannigan until 17 September, the production will be directed by Nikolai Foster and produced by Michael Harrison and David Ian. The production will be identical to the 2015-16 UK and Ireland tour.[28] The 3 girls who are sharing the main role are Madeleine Haynes (reprising her the role from the UK tour), Lola Moxom and Ruby Stokes. From 19 September, for a limited 10 week run, Craig Revel Horwood will return to the role of Miss Hannigan, reprising his role from the 2015-16 UK and Ireland tour. Due to phenomenal success at the box office, the production extended its limited run to 18 February 2018.
International productions
Annie has been produced professionally in Argentina (19821), Australia (19781, 2000, 20111, 2012), Denmark (1982), Germany(1999), Hungary (1998), Ireland (2003, 20163), Israel (20011, 2010), Italy (1982,2006), Japan (1979, 1986, 2004, 2010, 2012)2, United Kingdom (19781, 1983, 1998, tours from 2000–2010), Mexico (19791,1991, 2010, 2015), Netherlands (1997-19991, 2005-20071, 2012-20131), Norway (19911, 20041, 2013 ), Philippines (1978, 1987, 1998, 2016), Portugal (1982,1, 2010), Spain (19821, 20001, 2010), Sweden (1979 (Stockholm), 1999 (Stockholm), 2005-2006 (Malmö)1), Peru (1986, 1997, 2002), Zimbabwe (2003), Russia (2002-2009), Colombia (2006), Belgium (1992, 2008–2009, 2012), Poland (1989), North America (1978, 2003), United Arab Emirates 2009 (Dubai), Denmark (2011), Puerto Rico (2012), Singapore (2012).
1Indicates the production made an official cast recording.
2In Japan, a special demo recording of selected songs is made each year, with the new actress playing Annie.
3In Ireland, in the 2016 production, the actresses playing Annie and Molly (Aoife McNamara & Simone McInerney) alternated between the roles.
Sequels
The first attempt at a sequel, Annie 2: Miss Hannigan's Revenge, opened at the John F. Kennedy Center for the Performing Arts in Washington, D.C. in December 1989 to universally disastrous reviews. Extensive reworking of the script and score proved futile, and the project ended before reaching Broadway.
In 1993, a second attempt (with a similar plot and score) entitled Annie Warbucks was developed in a workshop at the Goodspeed Opera House under the direction of Michael P. Price where the original Annie enjoyed its world premier in 1976. It subsequently opened at the Off Broadway Variety Arts Theatre, where it ran for 200 performances.
Novelization
In 1980, Macmillan Books published Meehan's novelisation of the musical, later reprinted by Puffin Books in 2014. Several of the lyrics from songs from the show were adapted into dialogue and monologue for the novelization, not least Tomorrow whose main lyric is depicted as being Annie's personal motto. The novel goes into greater depth regarding the backgrounds of many of the characters and particularly about hardship at the orphanage, at which brutal beatings from Miss Hannigan and sweatshop labour for a dress manufacturing company are everyday occurrences. The legal name of Rooster's girlfriend Lily St Regis is given in the book as being Muriel Jane Gumper.
In the novel, Annie spends several months on the run from the orphanage, initially spending the winter as resident staff in Bixby's Beanery, a low-grade café run by couple Fred and Gert Bixby, before escaping after she finds Sandy. She then spends several months living in the Hooverville with Sophie and the Apple Seller (who is named as G. Randall "Randy" Whitworth Jr, a former stockbroker left destitute by the Depression) who, in the novelisation, are adult characters and a couple. It is revealed at the end that Randy, Sophie and all the other Hoovervillites had been released from prison and given jobs and homes by Warbucks as gratitude for taking care of Annie. Also reappearing at the end of the book is Sandy, previously written out of the book while fleeing police during the raid on the Hooverville, who it transpires was successfully traced by agents from Pinkerton hired by Warbucks.
The novelisation also somewhat reconciles Warbucks' fraternization with Roosevelt in the musical with Gray's opposition to the New Deal; Warbucks is depicted as a self-made self-reliant millionaire who prides himself on never asking anyone for help. The depression is eating into his financial empire and, although still a long way from poverty, he is lobbying Roosevelt to take steps to resolve the Depression. Warbucks is fiercely adamant that even this does not consitute asking for help; he lobbies on the basis that "if I'm not making money then no one is." Warbucks is finally forced to abandon his stance and ask Roosevelt for help when he needs to rapidly disprove the claim of "Ralph and Shirley Mudge" to be Annie's parents, which Roosevelt gives without reservation.
Annie school edition
The name of this edition is called Annie JR, is a musical licensed by Music Theatre International's Broadway Junior collection, specially edited to be performed by youngsters in a shortened version. It is performed internationally every year by acting academies, programs, schools, and theatre camps. MTI also licenses another youth version of the show, called Annie KIDS, a 30-minute length version meant for elementary school aged performers. The vocal practice book can be found here
Stage differences (1977 musical)
The songs "We'd Like to Thank You Herbert Hoover", "A New Deal for Christmas", "Something Was Missing" and "Tomorrow (Cabinet Reprise)" were cut. There is only one version of "You're Never Fully Dressed Without a Smile", which is sung by the orphans. Also, there are only two "Maybe" reprises. The song "You won't Be an Orphan For Long" only features Annie and Daddy Warbucks. The songs "Easy Street" and "Little Girls" were also shortened.
Films
The Columbia Pictures film was released in 1982, starring Albert Finney as Daddy Warbucks, Carol Burnett as Miss Hannigan, Ann Reinking as Grace Farrell, Tim Curry as Rooster, Bernadette Peters as Lily, and newcomer Aileen Quinn as Annie. A sequel, Annie: A Royal Adventure! was made for television in 1995. It starred Ashley Johnson, Joan Collins, George Hearn, and Ian McDiarmid. Aside from a reprise of "Tomorrow", there are no songs in it.
A made-for-TV Wonderful World of Disney movie version, produced by The Walt Disney Company and directed by Rob Marshall, was broadcast in 1999; it starred Victor Garber as Daddy Warbucks, Kathy Bates as Miss Hannigan, Audra McDonald as Grace Farrell, Alan Cumming as Rooster, Kristin Chenoweth as Lily, and newcomer Alicia Morton as Annie.
A documentary film, Life After Tomorrow, was directed and produced by one of the original Broadway and National Tour orphans, Julie Stevens and partner, Gil Cates Jr. It reunites more than 40 women who played orphans in the show and reveals the highs and lows of their experiences as child actresses in a cultural phenomenon. The film premiered on Showtime and was released on DVD in 2008.
In January 2011, Will Smith announced plans for a redux of Annie set in the present day, produced with his wife Jada Pinkett Smith and rapper Jay-Z for release by Columbia Pictures, now owned by Sony Pictures Entertainment.This version was to star the Smiths' daughter, Willow, as Annie; as she had aged out of the part before production began, she was replaced by Academy Award-nominated actress Quvenzhané Wallis.Directed by Will Gluck and released on December 19, 2014,[37][38] this version of Annie also stars Jamie Foxx as Will Stacks (an update of Daddy Warbucks),Rose Byrne as Grace Farrell, and Cameron Diaz as Miss Hannigan.The film's song score includes most of the original musical's songs plus new compositions produced by Greg Kurstin and Sia.
Recordings
The Original Broadway Cast recording was released in 1977; a CD containing bonus tracks was released on September 15, 1998 by Sony (ASIN: B00000AG6Z). The 1995 London studio cast recording, featuring the National Symphony Orchestra, stars Sarah French as Annie, Kim Criswell as Miss Hannigan and Ron Raines as Daddy Warbucks.
A 30th anniversary cast recording was released in 2008 on Time–Life Records. An all-star cast of former Annie cast members includes Carol Burnett, Sally Struthers, Kathie Lee Gifford, Andrea McArdle, John Schuck, Harve Presnell, Gary Beach and Amanda Balon. The rest of the cast is made up of the members of the 30th Anniversary Tour. This recording is a double CD set and includes the entire show as it is performed now on the first disc. The second one includes songs from the sequel, "Annie 2: Miss Hannigan's Revenge" as well as songs that were cut from or added to the original production. There is also a song from the 1977 Annie Christmas special. The booklet is made up of original drawings by Philo Barnhart, who is the creator of Ariel and Ursula in "The Little Mermaid", and is presented in a comic book style.
Trivia
The musical is featured in an episode of the podcast, "Musicals with Cheese," on January 2, 2020.
Awards and nominations
Original Broadway production
Year
Award
Category
Nominee
Result
1977
Tony Award
Best Musical
Won
Best Book of a Musical
Thomas Meehan
Won
Best Original Score
Charles Strouse and Martin Charnin
Won
Best Performance by a Leading Actor in a Musical
Reid Shelton
Nominated
Best Performance by a Leading Actress in a Musical
Andrea Mcardle
Nominated
Outstanding Featured Actress in a Musical
Dorothy Loudon
Won
Best Direction of a Musical
Martin Charnin
Nominated
Best Choreography
Peter Gennaro
Won
Best Scenic Design
David Mitchell
Won
Best Costume Design
Theoni V. Aldredge
Won
Drama Desk Award
Outstanding Musical
Won
Outstanding Book of a Musical
Thomas Meehan
Won
Outstanding Actor in a Musical
Reid Shelton
Nominated
Outstanding Featured Actress in a Musical
Dorothy Loudon
Won
Outstanding Director of a Musical
Martin Charnin
Won
Outstanding Choreography
Peter Gennaro
Won
Outstanding Music
Charles Strouse
Nominated
Outstanding Lyrics
Martin Charnin
Won
Outstanding Costume Design
Theoni V. Aldredge
Won
1978
Grammy Award
Best Cast Show Album
Won
1997 Broadway revival
Year
Award
Category
Nominee
Result
1997
Tony Award
Best Revival of a Musical
Nominated
1998 London revival
Year
Award
Category
Nominee
Result
1999
Laurence Olivier Award
Best Performance in a Supporting Role in a Musical
Andrew Kennedy
Nominated
Best Theatre Choreographer
Peter Gennaro
Nominated
2013 Broadway revival
Year
Award
Category
Nominee
Result
2013
Tony Award
Best Revival of a Musical
Nominated
Drama Desk Award
Outstanding Actor in a Musical
Anthony Warlow
Nominated
Videos
Community content is available under
CC-BY-SA
unless otherwise noted.