I think i'm gonna like it here.

Warning! This article contains spoilers.
Tomorrow, Tomorrow I love ya tomorrow You're always a day away

This article was featured on the front page.
Agatha Hannigan is the (former) main antagonist of the Broadway musical, and the films. 
Personality
Her personality varies depending on the version.
In the original comic strips, she is known as Ms. Asthma. She is an old matron and the head mistress of the orphanage. She is less abusive and cold-hearted as the other portrayals and she is not drunk. However, she is very stubborn and stern. In the first strip, she denied Annie her once a year treat of Ice Cream for Dinner because she did not fix her bed. In all versions she sing the songs "Little Girls" and "Easy Street." 
The 1982 Film
In the 1982 film, she is depicted as a pompous, lazy, drunk, flirtatious, self-absorbed, and obnoxious woman who despises children and will do anything to get rich, played by Carol Burnett. She steals the orphanage's funds that is supposed to go towards the children, and she spends it on jewelry and alcohol. 
When we first meet her, she drunkenly awakes the orphans. She is always being abusive to her orphans, and threatening to paddle them. She refuses to let Annie be adopted by Mr. Warbucks until she is threatened. She gets her brother "Rooster" and his girlfriend Lily St. Regis to claim to be Annie's parents so she can get the reward money.
Towards the end of the film, Miss Hannigan tries to save Annie's life from her brother's desire to kill the girl. She is seen beating Rooster with her handbag.
The 1999 Film
In the 1999 film, she is hateful, psychopathic, arrogant, tricky, and aggressive and is also an obese woman - played by Kathy Bates as an opposite to Burnett's slender and self-absorbed, but more passive and lazy character. Miss Hannigan does not hurt any of her orphans in this version, but she threatens.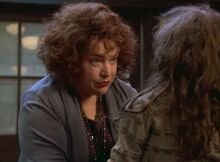 When we first meet Miss Hannigan, she intercepts Annie's escape attempt (again).
After she learns that Annie is gone, she immediately chases after Mr. Bundles and a dog tugs at her dress.
After Annie is caught, Miss Hannigan punishes her by giving her a toothbrush and ordering her to scrub every inch of the orphanage with it. Before her punishment, Annie is taken away by Grace Farrell to live with Oliver Warbucks.
Miss Hannigan disguises herself as Annie's mother and tries to take Annie so she can get Oliver Warbuck's reward money, but she is caught by President Roosevelt. She then goes crazy and is carted off in a restraint and that is the last we see of her.
The 2014 Film
Diaz's portrayal in 2014 is a vain, selfish, greedy, drunken, flirtatious and power-hungry control freak who loves herself, but hates the children. She doesn't realize her actions and selfishly thinks she is still a beautiful woman, very similar to Burnett's portrayal, albeit younger and more seductive. Unlike the previous portrayals, Hannigan reforms during the climax and asks the foster children if they will help her rescue Annie after she has been kidnapped. Her name is also changed to Colleen.
In the film, Colleen Hannigan is a foster care parent to a group of girls (including Annie)
Annie 2 : A Royal Adventure
We see her at the orphanage when Annie and Hannah arrive to ask her if Molly could go on vacation with them and she laughs and slams the door in their faces. She then arrives at the Queen Mary trying to alert people to Molly being a stowaway, but her claims were dismissed. She was never seen again during the film, but was mentioned briefly by Mr Warbucks.
Portrayers of the character
Miss Hannigan is first portrayed by the late Dorothy Loudon on Broadway, Carol Burnett in the 1982 Columbia film, Carol Cleveland in its 1995 sequel Annie: A Royal Adventure! (with her voice dubbed by the late Mary Kay Bergman), Kathy Bates in the 1999 Disney telefilm and by Cameron Diaz in the 2014 Film. In some stage performances in the 2010's, she was played by Andrea Mcardle, who had first played Annie in 1977, and later played the Star-to-Be in the 1999 film.
v

- e -

d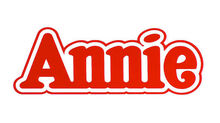 }}
v

- e -

d
}}
v

- e -

d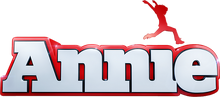 }}